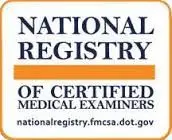 In 2015 our clinic did over 10,000 DOT Physicals & over 6000 drug tests
We ARE A WALK IN CLINIC, YOUR WAIT TIME IS ALWAYS VERY SHORT
Why go to a clinic where you have to schedule 2 weeks in advance?
We can always get you in on the same day
Under federal law, operators of commercial motor vehicles are required to undergo a physical examination, drug testing, and alcohol testing once every two years, in addition to random substance abuse testing. The courteous staff at our clinic offers all of these services and more in a comfortable, professional environment.
Your DOT physical includes:
Urinalysis drug test
Vision exam
Hearing exam
Blood pressure test
Heart rate test
Ear/nose/throat exam
Reflex test
with additional physical examinations
Each physical is preformed by a Board-certified doctor, and you never need an appointment to receive fast, efficient service.
Physicals Are Preformed
Monday, Wednesday, Friday 8 A.M. to 6 P.M.
Tuesday 10 A.M. to 5:00 P.M.
Thursday 8 A.M. to 1:30 P.M.
Saturday 8 A.M. to 10 A.M.
(No physical performed from noon to 1:30 PM Monday,Wednesday, Friday)
"Outstanding, efficient, courteous!" -- Julie
"Very impressed - will be happy to recommend." -- Todd
"Very refreshing care experience - nice, compassionate people and short wait time - very unusual!" -- Theresa
"Great staff!" -- Sam
"Excellent! One of the best medical experiences in a long time." -- Victoria